Keeping your kitchen up-to-date and luxurious can be a tricky task. Are you planning to Design your modern interior design of kitchen with a modern texture but do not know how to do it? No worries, we can assist you in Best Modular Kitchen Cabinet Design Ideas and other kitchen design ideas to beautify your Kitchen area.    
Modular kitchen design look very sleek and beautiful. However, you need to follow up on some of the best house interior design while decorating your kitchen. We have researched some of the best ideas to ensure a designer-worthy look in your kitchen. Stick around these tips to keep your kitchen updated.
Modular Kitchen Cabinet Design Ideas
Many individuals have improved their cooking experiences by prioritizing aspects like space utilization, efficiency, storage, usability, functionality, durability, and maintenance in the design of modular kitchens. A superior modular kitchen extends beyond mere appearance or aesthetics. We believe that even seasoned chefs can understand this simple principle.
Therefore, before embarking on the journey of planning your modular kitchen, it's essential to select a suitable design that aligns with your requirements and needs. To assist you in this endeavor, we have compiled a list of the top ten modular kitchen design concepts that effectively blend functionality with visual appeal. Continue reading to discover the design that best suits you and your household.
Design Idea 1: L-Shaped Modular Kitchen
If you desire an expanded workspace, the L-shaped modular kitchen is an excellent choice. Beyond the additional work area, this kitchen style boasts numerous advantages. It works well in small to medium-sized kitchen spaces, accommodates multiple cooks, effectively utilizes corners and open areas, remains unobstructed at all times, and notably, facilitates an effortless work triangle.
Design Idea 2: Straight Modular Kitchen
If you reside in a compact apartment or loft, the straight modular kitchen could be the ideal option. This straightforward layout arranges all culinary components linearly, from essential supplies to tableware. Particularly suitable for single users, this single-wall kitchen is cost-efficient and particularly effective in small, linear settings where a traditional work triangle isn't necessary.
Design Idea 3: U-Shaped Modular Kitchen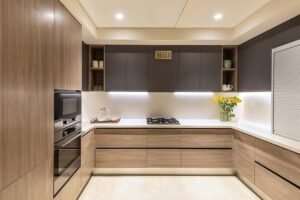 U-shaped modular kitchens present highly practical layouts, offering abundant storage and workspace. They also provide ample creative flexibility and the potential for a symmetrical design. With a single entry and exit point, these kitchens offer enhanced security and a comfortable cooking environment by minimizing through traffic.
Other Kitchen Design Ideas
Hang Floral Curtains
If a small window is attached to your kitchen, use floral curtains. It would help if you kept the color thematic with the furniture and floor. You can also use a plain curtain. Keep the color the same as the floor.    
Hang Some Picture Frames or Canvas Painting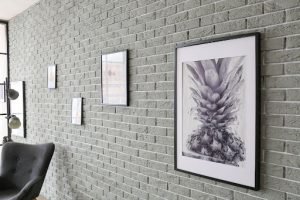 Nowadays, picture frames look beautiful. You can hang some plane frames with one theme. Insert some food pictures , canvas paintings or quotes in them. They will steal the look of your tiny kitchen.
Elevate your modular kitchen with modern Indian paintings. Infuse culinary spaces with vibrant artistry, merging functionality with aesthetics, as these paintings reflect India's cultural richness and bring a touch of elegance to everyday life.
Use a Lamp
A lamp can warm up the look of your modular kitchen design. Place a small lamp in one corner. It is a fancy Home Décor Ideas to light up your kitchen.
Place Some Decorative Pieces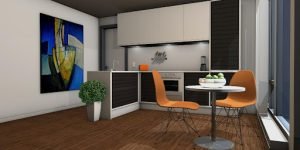 You can place Dining Design Ideas in your kitchen to keep it beautiful. Place a plane vase with some fresh flowers on the shelves. It looks heart-warming and stunning. You can also place some beautiful cups on the shelves. They look minimal and decorative. 
Use Artificial Fruits
You can place artificial fruits in the center of your kitchen table. They look colorful and cheering. These artificial fruits will enhance the look of your kitchen. They also sprinkle a bit of cheerful ambiance in the kitchen. You will love these tiny artificial fruits.
Use Plane Cabinets 
Nowadays, plane cabinets are famous. Plane Cabinets give your kitchen a smooth and contemporary view. The best colors to paint your cabinet are grey, black, and white—paint cabinets with one color only. Differently colored cabinets look messy and average. Only one color will give them a cool look. 
Place Small Plants in One Corner
You can place small plants in one corner. Small plants maintain the beauty and heart-warming ambiance. According to top designers, aloe Vera plants are the best for your modular kitchen design. They provide a meditative environment too.      
Place Scented Candles on Shelves
Scented Candles enhance the beauty of your kitchen in so many ways. They give a smooth and warm texture to your kitchen. You can also place long candles for a sleek look. Please place them in the center of the kitchen or on the shelves. 
Use a Hanger
Hangers are an essential part of your modern kitchen. They help you display your utensils. They also make it easy to pick the basic utensils easily while cooking. You can hang these utensils in one corner. Hang saucepan, wooden spoons, and cutting boards on the wall. It will also save a lot of space in your kitchen. 
Stick Fridge Magnets and Sticky Notes
Fridge magnets look cute and minimal. You can stick small fridge magnets for a decorative look. They are not only reasonable but keep your fridge corner colorful as well. You can also use a thin cooking journal with magnetic binding. Stick it to one side of the fridge. You can also stick some colorful sticky notes on the fridge as reminders. You may also write significant recipes on them. 
Use a Pair of Small Mirrors
Tiny mirrors look wealthy. You can hang a pair of mirrors on your kitchen wall too. You can use a pair of small mirrors on one kitchen wall. It looks very fancy and unique. You will love it. 
Use Bright Lights 
You must use sufficient light for brightening the kitchen. Otherwise, your kitchen looks dull. Make sure the kitchen is well lit. You can use bulbs, chandeliers, and tiny lights for this purpose.
Use Track Lighting
Track Lighting has a significant impact on the details and outlook of your kitchen. You can shift the position heads of these lights while cooking your food. You can direct the heads in any direction of your kitchen.     
Track Lighting is suitable for cooking videos too. You can film a video for your cooking blog with these lights. You can also shift the position of heads to shelves. The decoration on shelves will look very detailed with these lights and will give an extra look to your modular kitchen design.
Use Long and Sleek Kitchen Chairs
You can give your kitchen a contemporary look with sleek and long chairs. These chairs look modern and enhance the look of the whole kitchen. The first thing that impresses the people is these chairs. So, make sure you keep them contemporary.
Prefer Thin Shelving
The kitchen shelves look beautiful. They are the best way to show your favorite utensils. However, it would help if you preferred thin shelving. Thin shelving gives your kitchen a decorative look. You can display luxurious dishes and your favorite utensils on these shelves. 
Add a Funky Corner to Your Kitchen
Modern kitchens are decent and sleek. However, you must add a funky corner to it. You can place a small colorful table on one side. Place some flowerpots on it. You can also put beautiful and cute mugs on it. 
Use Sleek Taps
The modern kitchen is equipped with current systems. Heavy and outdated taps do not give your kitchen a finishing look. You must use sleek taps for an enhanced look of your kitchen. It will look impressive and contemporary.
Use Sleek Furniture
A kitchen Dining Design without thin and lightweight furniture looks quite outdated. Today, sleek cupboards and small tables are trendy for kitchens. That said, you can maintain your kitchen's modernity by adding thin furniture to it. If you use luxurious furniture, make sure that it is not too heavy or over-designed. Otherwise, it will look a bit outdated.
Conclusion
Top designers can break your budget during modular kitchen design. However, we thoroughly researched top designers' timeliness to give a free guide for kitchen design. The Kitchen Design Ideas presented above are well researched. You can use them to keep your kitchen contemporary and sleek.
READ NEXT: Small kitchen troubles and their solutions
RELATED TOPICS: Interior design at home 
Top 6 Tips For A Successful Kitchen Renovation