Technology is making everyday tasks effortless; you can easily wash your dishes with the help of dishwashers without creating any mess. Dishwashers are available for every size of dishes, but sometimes you want some dishes to clean by yourself. In some areas, the use of dishwashers is not common. If you do not have a dishwasher, you can use drying dish racks which are available easily. You may find dish dry racks in many sizes and designs. These racks vary from lower to higher prices. Let's have a view at some drying dish racks that you will need for the design of modular kitchen.
Simplehuman steel frame dish rack
Simplehuman steel frame dish rack is big in size. It is the perfect choice for a wider design of modular Kitchen Design. It supplies multiple spaces for your plates, cups, spoons, and glasses. Its stainless steel structure is awesome and prevents your dish rack from aging and oxidation. You can arrange the bulk of dishes in it due to its large size. Its frame does not support your touch impression, so there is no need to worry about rough fingerprints. It offers optional feet that may be used at the time of need. It is easy to clean. The dish under the glass rack is foldable. You may unfold it when glasses are wet and fold it again when glasses get dry. Its wine glass holder saves your pretty wine glasses from damage and ready to use any time. Its drainage system makes it preferable as it does not let water stay in the tray for a long time.
The Chef'n DishGarden Dish Rack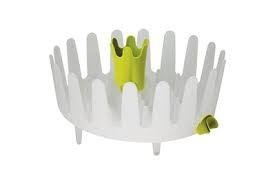 The chef's DishGarden dish rack can amuse you with a beautiful exterior and manageable house interior design. The combination of green and white color makes it a wonderful pick for your kitchen and Dining Design . It is in round shape and a perfect choice for smaller kitchens. You will find it congested at first sight, but when you start arranging plates and other flatters in it, you will find a broader area to adjust all dishes to get dry. It provides built-in drainage and two optional green holders. You can put these holders in multiple spaces to suit your need. DishGaden's pretty modern interior design adds contemporary beauty to the design of modular kitchen . This dish rack suits your workplace due to its smart size and multiple racks.
Neat- O Chrome-plated steel dish rack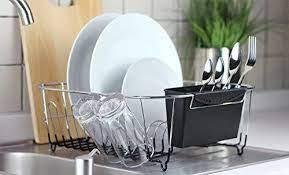 If you are fond of extra-small dish racks that even can get fit in your sink, a Neat-O Chrome Plated Steel dish rack is an excellent option. It has an optional cutlery cup. It offers enough good space to use. You can adjust it on your kitchen shelf or countertop easily due to its smart size. It comes in a wires' frame as a basic structure, which allows hold plates easily.
The Yamazaki Home Wood-Handled Dish Rack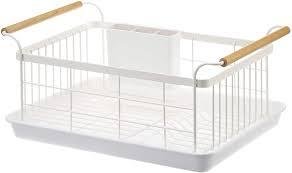 Everyone likes to add artistic charm to his kitchen interior. You can add The Yamazaki Home Wood-Handled Dish Rack to your Kitchen Design Ideas to enhance the interior beauty of your kitchen. It is functional as well as beautiful. Its delicate Design Inspiration makes a fantastic décor object, too, besides a dish rack. It gives a minimalist expression to your kitchen décor. It comes with an optional plastic tray. You can hang it in your sink with its handles or place it on the shelf with the plastic tray. 
Ace Teah drying dish rack
Ace Teah, the drying dish rack, is also a bigger one and provides a wider place for your Dining Design Ideas. It serves as behind the sink dish rack. The design of modular kitchen provides an opportunity to place it behind your sink with no trouble. You can place it on any of your kitchen shelves, too, if you have a huge cooking area, otherwise; this rack is convenient for the smaller kitchen to save space in an amazing way. It is made of stainless steel, which makes it safe from getting rusted.
The PremiumRacks Professional Dish Rack
The PremiumRacks Professional dish rack is a type of double-decker dish rack. It is consisted on double racks with holders for glasses, utensils, and knives.
 It has a separate holder for your cutting board. All these features make it a good option to pick. Its double-decker design makes it adjustable for your sink and countertop. Its fame is durable due to its good quality stainless steel material.
The Folding Bamboo Dish Rack
A folding dry dish rack looks stylish and amazing. Its foldable design makes it easy to fold and put it in a kitchen drawer or cabinet when not in use. Its natural material offers easy cleaning. It is a good option for camping, vacation, and office as well as for a perfect design of modular kitchen. 
READ NEXT:4 Ways to Use Accessories to Decorate Your Home
RELATED TOPICS:home interior design ideas