Many dreams of working from home, but practicality and cultural expectations can hold us back. But once you leap, it's liberating — you can create a simple office interior design that is well-laid out and full of fresh inspiration to help make your day more productive. All you need is to follow these small office design ideas.
14 home office design ideas
Do you have a home office? If so, you're not alone. More and more people are choosing to work from home for a good reason. Working from home is one of the top things to increase productivity and decrease stress. Here are 14 Office Interior ideas or corporate office interior design for designing your home office, so it's both functional and stylish. This post will help you set up the perfect home-office-style space that keeps you focused on what matters most, from desk décor to Lighting ideas.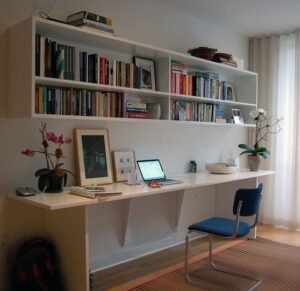 One of the small office design ideas is a cozy reading nook is a perfect place to find serenity in your home office. Adding a reading nook is not only a great way to create a functional space, but it will allow you to experience a little bit of luxury in your everyday life.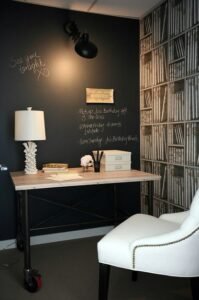 Chalkboard paint (or a real chalkboard if you're fancy) instantly transforms any space into a stylish and functional work area. A chalkboard wall is a MUST if you have a room that functions as a home office. It is trendy and gives a fantastic look to your home office. You can write informational and motivational quotes that boost your productivity. 
Proper lighting is critical for optimal productivity. While it's not uncommon to find fluorescent shop lights scattered across a dark office, you can keep it stylish and functional with LED strip lights and Design Inspiration specifically for home offices. Add some artwork to spruce up your space. Transform your small office design ideas or house interior design into a space that makes you feel inspired.
Having the right tools, materials, and equipment on hand is vital for keeping your home office organized and efficient.  As no one likes a messy office with spread things. So one thing is here that keeps your office clean and makes it easier to manage your small accessories to important files. This is the only feature to add drawers or cabinets up to the ceiling. Try to use your home office spaces in a manageable way.  
Choose a space that has a window and natural light.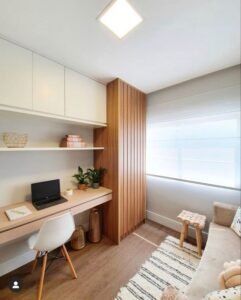 Having great lighting is essential for creating a productive home office. Your computer screen tends to produce a lot of light, so the room will look darker with the two converging. If you work best in the evening, get lots of daylight during the day. Natural light boosts productivity and keeps me calm and relaxed all day. 
Don't use every single inch of your space.
Clear out something and make room for a home office. It's essential to have a desk and chair space and open space to store files and other office supplies. It's also nice to have a couch or other comfy place to sit and work.
Use Glass Tinting to Make Your Home Office Pop
Next office design ideas consist of Painting and wallpapering of your home office. It is a great way to go for a fresh, clean look. If you love the idea but want to go for a different and modern interior design look, try tinting your glass instead. Whether you're looking for a bold color or something more subdued, glass tinting gives you a stylish and sophisticated alternative to painting.
Keep it simple
Less is more with home offices. You can get complacent and fill your space with excess things. Avoid spending money on furniture that doesn't serve a purpose.
Set up a Space-Saving Desk
When setting up your home office, the first thing to consider is the desk. It would be best if you always tried to find a desk that is both functional and fits your home. Luckily, tons of space-saving desks are great for smaller homes. Get a comfortable desk that is ergonomically correct. Make sure you can adjust the height.
Artwork give an aesthetic look
You don't need to be an artsy person to have a home office that draws inspiration from the artwork. Whether you're adding a gallery wall to your space, or just adding a few pieces of art to your desk, a little bit of art can go a long way in making your room feel more inspirational. If you can't commit to an entire wall of art, try to find pieces that work together to form a theme.
Revamp office interiors with modern Indian paintings, infusing creativity and culture. Immerse yourself in the world of Indian art at www.indianartzone.com. Discover a captivating array of paintings that echo the nation's heritage, offering a seamless blend of traditional craftsmanship and contemporary creativity.
Get inspired by a color scheme
Before setting up your home office, you should decide on a color scheme. Pick colors that reflect your personality, work style, and other aspects of your life you want to be reflected in your home-office space. If you're looking for some color inspiration, this article can help. 
Paint the walls a bright, neutral color
Choosing a neutral color on your walls will make you feel at ease and relaxed. Crisp white paint is a favorite in many home offices and works beautifully to reflect light and create a calm atmosphere. So always keep wall paints and color on top priority while searching for office design ideas
Create a system for peace of mind
Whether you run your own business from home or work from home as a freelancer, it's essential to set up your space in a way that keeps you focused. If you work from a desk, make sure it is kept tidy. First impressions are essential for your work area, so leave your space looking as professional as possible.
Start decorating with plants and paintings
Plants have been proven to decrease the amount of stress in a home or office environment. Try adding some potted plants to the corners of your home office. They're relatively easy to maintain, and they look great when they're thriving. They also help improve the air quality in your space.
Create a sophisticated home office ambiance with modern paintings. Elevate your space with vibrant colors, abstract forms, and sleek lines, inspiring creativity and adding a contemporary touch to your work environment.
Conclusion
It may seem like a lot of work to implement Simple office interior design or Decorating Ideas in your home office space and make it feel like a warm and welcoming place to be, but the changes don't have to be complicated or expensive. Using a few little tricks will help make your small office design feel more like a living room.
READ NEXT: Top 5 Office Interior Design Ideas to Improve Productivity
RELATED TOPICS: Office Interior Design
Office interior design ideas for a vibrant workplace