Decorating a house with greenery is always a cool idea. From the 1970s, a trend of lushing a spot with fresh flowers and green bushes has peaked for home garden design. The eye-catchy appearance of this vibrant style presents a new life to your home.
However, some people get confused about designing a place with greenery. They have many options to decorate a home with leafy greens but fail to apply their ideas in practice. For example, some do not know where to set a houseplant. On the contrary, others do not decide where to hang red flowers with green plant branches.
If you are jumbled with several decorating points with leaves and need guidance to choose a perfect one, do not go anywhere. On this page, we will endeavor a brief knowledge about the green decoration of your house.
So let us get started!
Install a Plant Trolley 
A stylish indoor home garden design has become a demand for every person who owns a modern house. Through incredible greenery, the view of the apartment looks brighter and shiny. For this purpose, add a stylish plant trolley to your place.
For example, get a cart having wheels from a market. Then, put different small plants onto it. After placing, you have to take care of these plants. Like ensure timely trimming of every plant and give water to keep them fresh timely.
Let us suppose your room faces a lot of sunlight daily. For this type of space, the selection of palm trees is the ultimate choice. Indeed, they require many lights that keep them active and fresh. As a result, a room having great sunlight can fulfill the needs of a palm tree.
In addition, if you do not have enough budget to purchase a bundle of green plants for your sweet home, only two palm plants are enough for you. For instance, you can place palm trees around the two sides of the sofa, making the whole place aesthetic.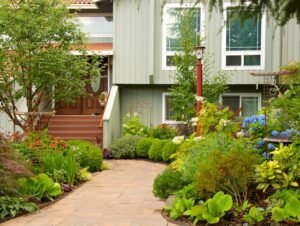 Entrance is the focal point whenever anyone enters a house. As a result, you have to make your entry attractive with green plants. If your entry point is faded or unattractive, the decoration of your home garden design remains useless.
First of all, you can grow small grass just outside the door. Then, indoors, you can put some plants that suit both sides of the front door or select according to your favorites. Moreover, you can hang some leafy branches above the door.
It is a perfect plant to set an ambient tone at your home if you have the stamina for the proper maintenance, including sunlight or watering on time. With greenish looks, its colorful blooms also add exceptional views.
In addition, to create a scented environment, you can also utilize this plant, having a wide variety of colors. For example, its lemonade fragrance helps grab a healthy and fresh breath to people who live even in the indoor of a place where Geraniums are present.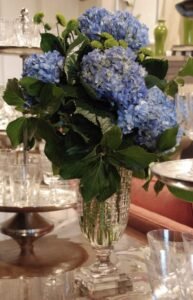 Undoubtedly, everyone loves flowers due to their different colors, beauty, and fragrances. So, making a floral bouquet and adding it up at your place is always a fantastic idea to put in. However, follow some easy steps below if you do not know how to make a bouquet.
Get some colorful flowers like roses having stems and leaves. Combine them but make sure the length of every branch is equal. Next, tied up all with the help of a piece of cloth or with a long green leaf by making a bough. Then, you can put them in in vase and set them at the side table of your room or in the kitchen design.
Like a bookshelf, a green shelf enhances the beauty of your home. You can prepare a green bar to hang on the wall by putting in a little effort. For accomplishing this requirement, you have to buy some outstanding green plants or bushes.
For this home garden design first, hang two or three wood or steel boards on the wall. Next, keep some plants on them. Then, add some hanging leaves. Aside from this idea, you can apply the same view on the bookshelf by putting only leafy branches to endeavor a greenish look.
No doubt, every person cannot afford the costly plants to decorate their house or apartment. As a result, he wants to find an idea where he does not need to spend a single penny and gets his home decoration done.
For those persons, leafy decoration is the best option to avail. For it, you can cut leaves of any plants like succulents, bananas, or eucalyptus. Then, arrange in a particular order that escalates fascinations of your place. However, timely change leaves because they cannot remain fresh until days.
Most people do not live in spacious apartments. As a result, their homes cannot get enough sun lights that can keep plants alive. So, a query takes birth that how to survive their greenery is possible. The answer is to avail artificial greenery.
Many shops offer unlimited artificial plants, leaves, and flowers for placing at your house. They seem real, and you can play with your creativity for their placement. Moreover, you can add artificial shrubs to incorporate the beauty of hanging leaves.
Final Thoughts  
In summary, greenery is the best for any house to develop a captivating atmosphere and bring lively fragrances. Moreover, it creates a natural look that keeps us healthy and vigorous from eyes to breathing. For this purpose we have shared multiple home garden design ideas with you.
In this writing piece, we have combined some excellent tips for greenery that you can follow. Even our green tricks of home decoration will never consume extravagant money, and everything will be possible on a reasonable budget.
In addition, you can also get the help of interior designers. With years of experience in this field, he will suggest the best tips to decorate your spot with greens. Further, you can also hire him if you have no potential to decorate your place yourselves.
READ NEXT: 
RELATED TOPICS: landscape garden