Isn't it good to have a location where you can unwind and feel peaceful? When you design your Japanese garden, this is precisely what happens. Let's explore some common ways to achieve a Japanese landscape garden for your lovely home!
Gardens in Japan are designed to be places of meditation and introspection. Traditional Japanese gardens are those whose designs incorporate Japanese philosophical concepts and aesthetics. They aim to eliminate artificial decorations and emphasize the natural landscape more.
The interest in a Japanese garden is rapidly expanding because of its relaxing features. It's simple why Japanese gardens capture the attention of so many people. There are many other brilliant designs to opt for, from gravel areas and meditative rock to bamboo water features.
6 Amazing Ideas To Achieve A Japanese Landscape Garden
When creating a Japanese-style garden, the goal should be to develop a sense of mystery, tranquillity, and a piece of nature's essence. Following creative ideas might help you attain a perfectly adorned Japanese landscape garden.
Your garden's entrance is the first thing you notice when you walk in. Use a basic bamboo fence to make it like a Japanese garden style. Make the doorway clear with a gate and lovely arbor. You can even attempt cultivating bamboo plants, which are among the world's fastest-growing plants. 

With its contrasting vertical lines and lush greenery, bamboo may be utilized to provide depth and seclusion to a space. It may assist in inducing thinking and calm into your environment and function and design. The use of bamboo will ultimately reflect a traditional Japanese-styled garden.
Make A Statement With Japanese Bridge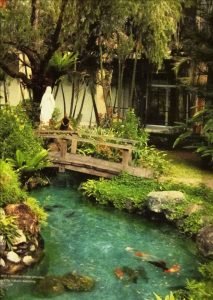 Almost every Japanese landscape garden has a unique statement piece, a bridge. A bridge is an excellent approach to generate movement and structure inside your Japanese garden ideas. It represents the passage from the mortal world to the afterlife or higher spiritual realm of purity and nature.
Add an elegant arched bridge across dry gravel or a pebble river. Adding clusters of natural vegetation, including ferns and ornamental grasses, are also creative possibilities. You can incorporate these at each end of the bridge for a more stunning look. You can add one or two trees for small gardens nearby to further frame the view.
Stone Lanterns Will Light Up Your Garden
A traditional Japanese lantern, known as a tōrō, is made of stone, wood, or metal. They were lighted with a candle or a tiny oil lamp and placed to illuminate the road to temples and shrines. But they act as a significant component in Japanese garden concepts.
There are many various designs and sizes of lanterns, each with its rich heritage and significance. Installing one is a great way to attain a traditional Japanese landscape garden. It will enhance the overall mood and will help illuminate the space. 
Attractively Use Stones And Boulders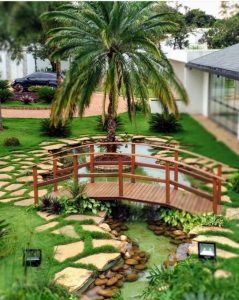 Stone is more significant than any other garden component in Japanese gardens. Smaller pebbles and gravel create the beauty of ponds and streams, while large rocks serve as lovely embellishments.
In addition to uniformity or consistency in your garden walls, you want them to be unique. A stone wall is a terrific way to fill this void in a Japanese garden. Moreover, you can arrange three rocks in a triangle configuration of various sizes and shapes but similar colors and textures to create a focal point in your garden.
This is another fantastic way to get an instant Japanese landscape garden. Natural stepping stones are most commonly used to create paths in a Japanese garden. Gravel or a live ground cover are also used to enhance the feel. 

A curved walk leading to a hidden feature or meditation area complements the sense of adventure and is an excellent addition to your design.
In contrast to bright western gardens, Japanese garden design emphasizes essential color palettes. Green is the most popular color for plants in a Japanese garden. You can get this look by focusing on the green as a base hue and then carefully adding tiny quantities of seasonal color. This might be a plum tree alongside a pond full of summer-blooming lotuses. This makes it possible for each hue to be the focal point on its own.
Japanese maples, which are common in Japanese gardens, give a variety of hues throughout the year. Boxwoods are an excellent choice for a green base in your garden. They may be trimmed to produce the clean lines seen in Japanese gardens. Juniper, yew, pine, and Japanese barberry are more options. Careful use of plants is necessary to attain a traditional Japanese garden.
Wrapping It Up!
Understanding the historical foundations is necessary to achieve a Japanese landscape garden into your own house effectively. A daring blend of culture and tradition is required to obtain the most remarkable results. Think out of the box and follow the above ideas to create your very own Japanese-styled garden!
READ NEXT: 17 Easy and Beautiful Landscaping Ideas for Your Home's Exterior
RELATED TOPICS: landscape garden