The home is a space that we spend a lot of time in and for that reason, it's important to make it a place we love. Wall art can transform your home with colors, textures and shapes that add beauty, character and meaning. These 7 large wall art ideas will help you fill those blank spaces in your home.
7 large wall art ideas
Colorful and whimsical wall art
This whimsical painting would be a great addition to the living room of your home. The colors are calming and softens the space. This piece is perfect for children's rooms as well!
Geometric wall art
This geometric design is so fun and playful. It's an elegant and modern way to fill up any blank space in your home. You could even use this as inspiration for your next furniture design!
Abstract wall art
Abstract Art creates a sense of intrigue with its intriguing lines and shapes that resemble nature in some way. The color palette is also very pleasing to the eye! Our website is a great place to visit if you're interested in purchasing abstract art for sale.You can find a diverse range of large abstract art pieces available for purchase online.
Enchanted forest mural wall art
This enchanting wall art ideas will inspire you to create your own little "enchanting forest" in your home! The bright green, lavender and purple are a beautiful contrast against the dark browns and black hues of this piece that make it feel like you're looking at something out of an enchanted forest fairy tale storybook illustration! Immediately, you feel relaxed with every step you take towards it!
Seascape wall art
The ocean is one of my favorite places on earth so I really
Creating a focal point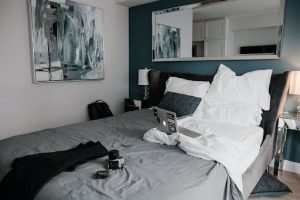 One of the best ways to get a piece of wall art up on the walls is to create a focal point. A focal point is any area in your home that you can use for inspiration and set your art in. An easy way to do this is to think about where you spend time or what memories you have there.
For example, if you're thinking about putting a photo of your kids on the wall, think about where they are often playing or what objects are around them. It could be as simple as their favorite teddy bear or it could be something more personal like their first birthday cake.
Next in the wall art ideas, decide what colors or textures you want in your focal point and then start finding pieces that fit with those aesthetics!
Using DIY and recycled materials
If you're looking for a more personal touch and something that spruces up your home, don't forget about DIY. You can transform your walls in ways you never thought possible with paint, stencils and other materials.
Alternatively, if you have some old furniture you no longer want, consider using it as wall art. This may not be the most cost-effective option but it will add unique character to your space.
If there's one thing to remember when creating wall art, it's that you don't need anything fancy to make an impact. Cans of paint are much easier to come by than custom wallpaper so pick up a few cans of paint if you're having trouble finding them at the store.
Making sure the colors work together
One of the first steps to make a room feel homey is to pick colors that work well together. For example, if you have a living space with neutral colors like beige and brown, you could add pops of color with reds and oranges. This will help create contrast in your room while still looking cohesive.
When picking colors for your walls, it's important to consider how light will play into the room. If you're picking just one color for your wall, go bold with that one color—but if you want your space to feel more diverse, choose two complementary colors.
The importance of balance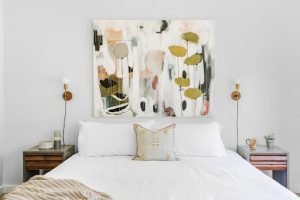 When it comes to decorating your home, balance is key. If you have too much of one thing, then the space will look cluttered and seem uninviting. But if you have no focal point, then the space will feel empty.
Think about how you want your room to feel and use this as a guide for choosing wall art that adds meaning to your home.
How to create a focal point in your home.
There is a saying that goes something like this: "If you have to choose between good taste and money, always choose good taste." I think this is the perfect sentiment for your home. After all, the average cost of a new home in the US is $277,000. So it's safe to say that everyone wants their home to look flawless.
To start, you should decide if your space needs a focal point or if it just needs color. If you need a focal point, do some brainstorming and figure out what you are looking for from your wall art. What colors will work best with your colors? What shapes will work best with your shapes? What textures will work best with your textures?
Once you have decided on what you want for your focal point, go shopping! There are plenty of big wall art ideas that can help transform any room in your home into an amazing statement piece. Whether it's a single piece of art or an entire gallery wall, there are plenty of ways to create a focal point that matches your tastes and budget.
READ NEXT:4 Ways to Use Accessories to Decorate Your Home
RELATED TOPICS:home interior design ideas