More often than not, art is underestimated for its power in home decor. Today we will tell you how to improve and decorate your interior with wall art painting.
In fact, many people hesitate to hang bold artwork on their monochromatic, light-colored walls. Mustering the courage to do so is all you need to bring an innovative change to your interior — and you'll thank yourself for it later!
In this article, we've put together the top 7 tips and tricks you should bear in mind while decorating your interior with art, so the final product is nothing short of a vibrant dream! But before we get to it, let's shed light on why artwork matters so much in home decor.
Why Is Art An Essential Element Of Home Decor?
Artwork isn't just essential. As a matter of fact, it forms the focal point of interior design, and getting lost in the charm of a gallery wall is a prime example of the difference it makes.
In a nutshell, artwork is a defining element of home decor because:
Wall art painting enhances the color palette of the room and helps add a pop of color.

Shadow boxes, sculptures, and multiple paintings help add texture.

Art helps incorporate a personalized touch, making each room unique.

It provides a channel to showcase your personality and creativity.

It creates a finishing element, synchronizing all decor pieces of the room.
7 Tips and Tricks For Decorating With Art
Now that we've talked about the importance of modern wall art painting, let's move ahead and discuss the tips to keep in mind as you decorate your interior with it. Remember — there's room for customization every step of the way. After all, art is all about what makes you happy and comfortable!
Choose Art Pieces That Display Your Inner Self
The next time you hang something up in your living space, ask yourself, "Do I love this piece? Does it reflect a part of who I am?". 
Be sure to hang up wall art painting that speak to your personality. Maybe they showcase some of your beliefs, passion, sense of humor, or perhaps fashion sense? The more you relate to it, the more you'll enjoy seeing it every day!
Hang Wall Art At Appropriate Distances
As much as you'd like to toss in all the photographs you love into your gallery wall, there's a limit to the amount you can add. Be sure to allow at least 3 inches between each wall hanging — closer than that can cause clutter and kill the vibe. 
Add A Burst Of Color
If you're someone who sticks to neutral tones, now is the time to step out of your comfort zone and add a punch of color. Pick a large statement piece with vivid colors and watch your dull room come to life! The best part? It's a temporary change and can be taken down as and when you wish.
Use Varying Frame Styles
Thinking out of the box is the real deal in decorating with art. Use a variety of frame styles, choosing between wooden, matte, shiny, and metallic designs, amongst others. Mix and match them on your walls, and watch it all gradually come together to give a very unique look.
Fill Strange Corners With Art
Almost all homes have an awkward corner — and if you have one too, you'd know it's impossible to deal with. The super simple and quick solution is to embrace its peculiarity and give it a new sense of purpose by hanging one of your favorite wall art painting!
Enhance Artwork With Lighting
When you've put up a piece you love (especially the big ones), consider complementing it with suitable lights. You can flank it with vertical sconces or use picture lights, each creating an impact of its own.
Pick Lead and Supporting Roles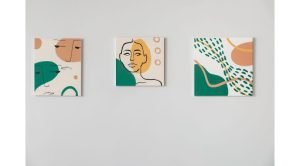 While adorning your interior with art, choose one piece per room to act as the focal point. This is usually a significant, statement work of art. Alternatively, you could use two to three similar pieces in a group to act as the single focal point. 
Let the rest of the pieces play supporting roles and complement the focal piece. If you choose two lead roles for one room, they'll compete with each other — and that's not our goal.
Home Decor's Best Part? All Sorts Of Art!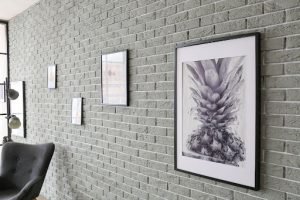 Art, in its many different forms, shapes, and sizes, forms a unique way to express yourself. It personalizes your indoor spaces and gives them just the final touches they need. What's more, it's a great way to get creative!
Ready to take your room from being functional to functional and fabulous? A statement piece (or two) of wall art painting are all you need! 
READ NEXT:7 Large Wall Art Ideas To Fill Those Blank Spaces
RELATED TOPICS: wall paintings for decor