Looking for inspiration for a bathroom design model — or remodel? Look no further!
Bathrooms, despite their relatively small size, contribute massively to the overall ambiance of the home. They're also visited often and define much of your relaxing experiences — a soothing facemask, a hot soak, you get the idea!
Hence, it's no wonder they're a priority (alongside kitchens) when it comes to remodeling. But to get the renovation right in the first go, you need to envision exactly what you want ahead of time, and this article will help you with just that. 
So, get ready to jot down your favorites as we go discover 10 fantastic Bathroom Design ideas and inspiration you will inevitably fall in love with! 
Add A Spacy-Savvy Shower Niche
Adding a shower niche to one side of your bathtub or shower cubicle is a stylish and modern addition to your Bathroom Design. What's more, it adds plenty of room without reducing elbow space and increases storage, meaning you won't have to run around on slippery floors to grab that bottle of shampoo!
Give A Rustic Touch With Pebbles Under The Vanity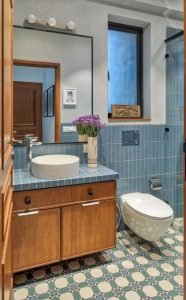 Adding depth to the floor under your vanity and filling it with pebbles is a unique addition, giving the perfect natural, rustic vibe to your bathroom. Be sure to top it with golden light to make it all the more attractive!
Toss In Some Plants
Plants make a striking statement in bathrooms — they add a touch of lush greenery and improve the quality of air. The best part is, that your bathroom's warm and humid environment is perfect for their growth. 
Stunning plant varieties for bathrooms include Begonia, Peace-Lily, and Philodendron. However, be sure to check the toxicity of each if you have furry friends or children around.
Frame The Bathroom Mirror With Lights
Ambient lighting isn't ideal for beauty-related tasks in front of the mirror. Therefore, it's a good idea to frame your bathroom mirror with mirror lights (which are readily available on Amazon) for detailed tasks. Attaching a vertical sconce on each side of the mirror will suffice as well.
Add A Bit Of Color
Most bathrooms use earthy and dull tones (and they look beautiful!), but adding in a subtle pop of color is an innovative upgrade as well. The best way to do so is by incorporating a pastel-colored bathtub to act as the focal point.
Use Patterned Tiles 
Patterned tiles and bathrooms sure have a love affair, and they go so well together! Their detailed, intricate Design Inspiration give a beautiful Bohemian touch, ideal for modern bathroom design interior and traditional settings. If you're not ready for too much pattern, use patterned tiles for flooring and keep the walls plain.
Use Floating Sinks And Cabinetry
This design idea is especially useful for tiny bathrooms. Attach your sink (preferably with a bold underside) directly to the wall. However, remember that this means no counter space to lay out your toothbrush or skincare items. You can also install floating cabinetry that will make your tiny space look spacious.
Add Your Favorite Artwork
The addition of artwork incredibly enhances the overall look of bathrooms. Whether you hang a single statement Wall art paintings or amalgamate a collection into a gallery wall, you will watch your bathroom space come to life with fascinating pieces of canvas painting!
Allow Lots Of Natural Light
Bathrooms are mostly the smallest rooms in homes, so making them feel spacious is important. One super effective way to do so is by allowing in lots of natural light. You can do this using overhead skylights, large, glazed windows, and installing a mirror opposite the door. Stick around till the last point to discover other ways to add a feeling of space!
Utilize Optical Illusions
Take advantage of optical illusions to make your bathroom design look more spacious than it actually is. Using horizontally-lined tiles for the walls is one great way to do so. You can also install large mirrors to effectively serve the purpose. 
Get To Work!
Your bathroom is one room that deserves a glow-up, and its small size means you won't need to pay a hefty amount on it either. Plus, you can do a lot of the renovation on your own with just the right skill and passion for DIY.
With the bathroom design and Decorating Ideas as well as inspiration discussed in this blog post, you are just a few steps away from your dream bathroom!
READ NEXT:6 Versatile Bathroom Accessories That Double As Decor
RELATED TOPICS: Small house interior design