Modern bathroom designs are one of the most critical aspects of building an appealing home. A stunning practical, well-designed, and contemporary bathroom design can affect the way your home appears and is. Modern designs for bathrooms showcase stylish, contemporary ways of remodeling bathrooms and turning them into elegant, appealing, comfortable, and stylish spaces. Here are some of the best bathroom design ideas to think about before starting your bathroom renovation projects.
Bathroom remodeling requires proper planning. Small bathrooms could be costly to renovate. Modern bathroom designs should be efficient, simple to maintain, clean, inviting, and cozy areas that complement the home style and make the home appear fresh and contemporary. Selecting the best bathroom remodeling concepts means that you can create a stunning home that you can cherish for years to follow. Here are some suggestions to help you begin the bathroom remodeling project.
Choose a Hidden-Tank / Low-Flow Toilet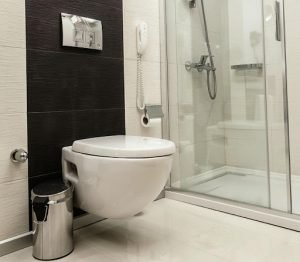 Toilets with concealed tanks — in which the water storage vessel is placed in the wall. They're worth looking into, especially for bathrooms with small spaces, since they can help reduce space. The sleek design also blends perfectly with contemporary and modern bathroom design. But, you should be aware that regular maintenance could be difficult because there's typically no simple way to access the tank when the inside of the tank requires attention.
A different style to think about is a low-flow toilet. These toilets conserve water each flush. They're an excellent choice that will not only lower your water bills but can also boost the worth of the house.
Use Small, Textured Tile on the Floor
You'll have a lot of wall, flooring, and tile options to choose from in your bathroom remodeling. The most crucial choice for safety is the floor tile in your shower. Select a smaller, textured shower tile. The texture and additional grouting will prevent your feet from sliding once the floor is slippery and damp.
Modern bathroom tiles are simple to clean and have grouts that withstand moisture, mold, and staining. Tiles made of porcelain and ceramic are available in a variety of styles. Mix and match patterns and colors to create the most visual impact, or opt for something subtler for a more sophisticated look.
Install 2-Inch Drain Pipe
This is a tiny and unnoticeable improvement. It will, however, make an enormous difference to the bathroom's functionality. The typical bathroom drain plumbing typically PVC pipe, which is 1.5 inches or 1.25 millimeters in size. This drain pipe can get clogged easily and is especially problematic if many family members use the same shower or bath. Installing drain pipes that are 2 inches in diameter will cost approximately the same and will significantly enhance the drainage in your bathroom.
Install a Ventilation Fan
Ventilation fan is an important part of modern bathroom designs. If your bathroom does not have fans, now is the perfect time to install one in. Fans let air circulate, ensuring that mold stays from growing, and they also help reduce humidity and moisture (especially useful for anyone who chooses to join the steam shower train).
If you install a bathroom air conditioner, be sure that it is vented towards the exterior of your home (not into your attic). Are you concerned about sound? Not to worry-modern fans are quiet enough that they can be effective in reducing the amount of moisture.
Incorporate Storage Solutions
Suppose you've ever got into the bathroom only to find that you didn't take a towel out of the closet for linens in the hallway, and you'll see why storage is an important element of any bathroom renovation. Believe it or not, there is room to store things even in the tiniest of bathrooms.
Baskets and hooks are easy to install and can be used to build-in or even install floating shelves (and don't forget the medicine cabinet that we mentioned earlier). If you have the space to install bathroom cabinets, then take advantage of it. You'll never be disappointed having a convenient place to store your towels, shampoo bottles, and other bathroom items.
Conclusion
Modern bathroom designs plays a crucial function in creating comfortable and functional homes that homeowners enjoy, and buyers are likely to want. Modern bathrooms boost the value of your home and develop areas that help you stay organized and free of stress. Take a look at the current styles in bathroom remodeling and pick the designs that fit your lifestyle. A well-designed bathroom can improve the look of your home's appearance and will make you feel more comfortable.
READ NEXT:6 Versatile Bathroom Accessories That Double As Decor
RELATED TOPICS: Small house interior design