Young families dealing with cramped quarters are increasingly opting for shared bedroom design. If you have twins, triplets, or siblings of varying ages, educating kids to share a room from a very young age can be a helpful lesson, as they start sharing everything as well to be patient. 
While this is all well and good, separating a shared room allows each child to maintain their own private space within the room, which is essential for their personal growth.
Cater to a Variety of Ages:
Because not all siblings sharing a room are of the same age, deciding on bedroom design and bed arrangement can be tricky – particularly when space is bound. With a raised single bed for a younger kid and a small double bed underneath an older sibling, this clever bunk bed layout caters to both. Space-saving and effective for a wide range of ages.
Add a Single Complementary Color Palette:
Color theory matters alot during bedroom design. Inject a splash of color that both kids enjoy creating a unified accent color. Paint window shutter insights in a bright yellow to enliven the space, draw attention to the view beyond, and inspire them to look beyond the four walls. As they develop, a color like brilliant yellow will show timeless, so you won't have to replace them every year as they outgrow baby blue or baby pink.
Combine Individual Styles:
Your children may have to share a bedroom, but that's about it. You can go so far as giving them totally different beds and tables even though they share a single room. Fill the bedroom design with various  room accessories and bedding if you have one tidy, chaotic girl, boy, ballerina, and explorer.
Set their Personal Study Area:
When it comes to reading or studying, silence and peace are essential. It's best to have 2 or more distinct desks or chairs for the kids, regardless of how small or big the room is. Moreover, you can pick a long custom desk along with two or more separate stools. Each kid should feel like they'd have their own study area.
A Feature Wall is a Welcome Addition: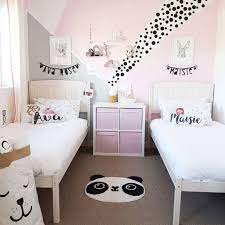 A feature wall can be used for bookshelves and toy storage in a sibling's room. The well-curated wall has enough room for double anything, from baby toys to artists' work and more mature accessories. Expert recommends not to skip this step during bedroom design.
Why not keep your baby twins together when you've had them? It doesn't make a difference if they're different genders when they're young; they love to share. Maintain a multi-colored palette with the alphabet and animal designs that can be updated with shades of pink and blue if desired.
Create a Hideaway:
Having lived in a shared space can be asphyxiating at times, and children may yearn for some alone time in a cave-like opening where they can hide away from prying eyes. If you have enough space, build a custom hideaway, a playhouse, or a small tent. 
Personalize Everything: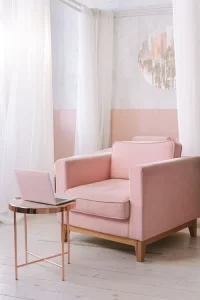 Personalize everything you can so you do not go into "but that's mine" conflicts. Bedding embroidery, fun wall art, and even painted indications above each of their beds are all great ways to emphasize the room's division while keeping everything as is. 
You face the risk of siblings feeling reluctant to express themselves in a shared bedroom. However, with personalization, they can stamp their name on everything.
Proudly Display their Achievements
While planing for shared bedroom design. It is mandatory to have a dadicated shelve for kids achievements.This is a superb way for parents to demonstrate their pride in their children. Make a big deal out of what they've accomplished! Install wall units to exhibit each child's awards, books, and artwork to free up some space.
Designing a shared bedroom for young siblings can be a fun and rewarding project. By considering their individual needs and preferences, optimizing space, and incorporating personalized touches, you can create a harmonious and inviting space for them to share. The key is to strike a balance between functionality, comfort, and personalization. A well-designed shared bedroom encourages cooperation, fosters a sense of togetherness, and allows each child to have their own space within the room. With thoughtful planning and creativity, you can design a shared bedroom that not only meets their practical needs but also becomes a place where lasting memories are made.
READ NEXT:The best blankets to keep you cozy and warm, including fleecy and heated throws
RELATED TOPICS: interior ideas for living room