Cooking can be a therapeutic experience as it can occupy our minds with something different, leaving the stressful thoughts afar. On the one hand, it can be a form of therapy; on the other hand, cooking for an event or a family or friends gathering can be stressful if the Kitchen Design is poorly equipped. We have decided to share a detailed article on kitchen interior decoration.
If your kitchen is old, crowded, or ill-equipped, then it's time for a kitchen remodeling. Or, if you are looking for home renovation, then the Kitchen Design Ideas is often the first step in the renovation. If you love to cook, having a chef's kitchen is the best choice due to its numerous features.
Features of a chef's kitchen include: 
Ample preparation space: 
Proper sanitation
A Deck oven
A chef's table 
Ample storage
Built-in Trash chute
A gas cook range
A proper organization
Efficient cooling
Ample preparation space: 
There is lots of space in a chef's kitchen and Dining Design that can be utilized while preparing for a significant event or when numerous people are cooking together. This kitchen interior decoration and ample space is achieved by having multiple countertops and open space, decreasing clutter, and making cooking an enjoyable experience.
Proper sanitation: 
Cleaning is a significant part of a kitchen, as a clean area will result in a hygienic meal. A chef's kitchen usually has two or more dishwashing areas which comprise a cleaning area and a drying area for the dishes. Having a designated drying area will also reduce the clutter of dishes waiting to be dry. This dishwashing area has multiple sinks and faucets, which can also e used to wash vegetables and fruits for meal prepping.
A Deck oven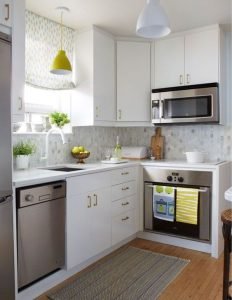 The oven is ordinary and standard in a typical kitchen, which can bake multiple dishes, but it does not have a specialty that it can bake well. On the other hand, a deck oven can bake great sweet and savory dishes like cakes, cookies, pies, loaves of bread, meatloaf, pizzas, and much more. It is a gas oven with ample space to hold multiple trays and pans at once. A deck oven suited for a chef's kitchen is not only high-powered but has high heat, simmer burners, and infrared broilers for greater effectively and efficiency.
A chef's table 
Do not confuse a chef's table with a kitchen island because a kitchen island is an area where you can prepare a meal or keep essential ingredients for easier access. A chef's table is where creativity and magic happen. It is where the meal is organized and beautifully plated to form art. A chef's table is specifically designed to give space to the chef to bring together and compile a dish, such as decorating a cake or plate an intricate dish. Besides this it plays an important role in kitchen interior decoration.
Ample storage
Storage comprises a perfect pantry to easily store all the ingredients, each having a specific place. That way, it is not difficult to find a specific ingredient, and it also decreases the stress of constantly cleaning cupboards to make space for all the things.
Built-in Trash chute
Taking out the trash daily is a job, so having a built-in trash chute can reduce a chore from a list of chores. You will just have to slide the trash bag down the chute connected to one of the kitchen cabinets, which will take the trash to the trash can. 
A gas cook range 
Having stoves that run on gas is better than electric stoves for many reasons, such as the glass burner can easily break and you have to handle it with tender care while the gas burner is strong and hence unbreakable. A gas stove can only handle a certain amount of weight and have a specific heat level, while a gas stove is versatile ( can handle a variety of pots and pans), and its heat levels can be easily adjusted. A chef's kitchen usually contains gas stoves with hotter flames which reduces the cooking time and gives an excellent chance for flames.
A proper organization 
A chef's kitchen has a proper place for everything; hence it is clutter-free and clean. There are proper cutlery organizers and pull-out drawers to arrange all the pots, pans, dishes, spoons, forks, and knives for easy access and to decrease mess.
Efficient cooling 
A chef's kitchen design inspiration will have a proper refrigerator and freezers with adjustable temperatures to keep all the ingredients, such as fruit and vegetables, fresh. 
Conclusion
A chef's kitchen is not only for professional chefs, but it is also suitable for people who love to cook or have a large family. Having a chef's kitchen will increase efficiency by decreasing the cooking, cleaning, and organizing time. An increase in efficiency will increase the kitchen interior decoration, functionality, and it is an excellent investment for chefs or prospectus chefs who can practice at their homes. Chef entrepreneurs who cook and sell from their
can also have this type of modern interior design to increase their business.
READ NEXT:A Guide on How to Arrange Art for a Flawless Wall Display
RELATED TOPICS:home interior design ideas