All decorating ideas, modern or rustic, contemporary or traditional, welcome green friends to interior design. Often, we use the term 'indoor plants' for green buddies that we want to use to ornament our homes. Indeed, we need low-maintenance home decor plants, so 'low plants' seems an ideal term for our green home decorating tools.
The question arises, 'why are natural plants becoming so much essential for decorating our space?'
The answer is quite simple.
Home decor plants have a soothing effect on our bodies and mind. They also act as air-purifying tools and better the air quality of your home. Natural plants breathe new life into your interior design and do not break your budget.
Today, green friends have become one of the most appealing and vital home decor elements. If you want to learn more home decorating ideas, be sure to read this complete guide!
What Home Decor Plants You Must Choose
All homeowners who wish to adorn their homes with green friends should know what plants to keep indoors and where. True, not all plants can tolerate the indoor environment. Here are some stunning plants for lazy people. 
Unpretentious synovium

Versatile palm

All-time favorite pothos

Money plant
Knowing about the types of home decor plants is just a half-knowledge until you know where to house each green buddy in your space.
For example, the living room can be the perfect place to display foliage plants. Also, if your family room lacks colors, you can go for pink synovium. We recommend pothos and ferns for a damp place like the kitchen.
Rejuvenate Interior Style by Choosing Different Heights for Plants
It's not always necessary to keep a big potted plant on the floor near the window. You could add more life to your interior design by placing home décor plants at different heights. For instance, pick a well-grown plant and place it near the entrance door. (One way of welcoming your guests with green buddies!) 
Now, take some small potted plants and exhibit them on the front shelf of your room. You can even hang beautiful plants in metal pots on the walls. If luckily, you have a bookcase in your room, don't forget to add aesthetic plants there!
Create Focal Point
No one can deny the significance of plants. Today, plants are considered a good piece for décor, and fortunately, they won't break your bank. Nicely placed and well-maintained plants look serene and charming. So if you aspire to stay in the company of nature, I would recommend creating a focal point and transforming your home into a green revitalized space.
Modern home decor plants incorporate the interior as a focal piece. Several plants can go well with low maintenance inside your home. Also, select a plant for the interior design that's not difficult to grow and is not much sensitive. For example, 
Don't feel afraid to rejuvenate the vacant space and get ready to breathe fresh air in your home.
Prettify Your Hallways with Home Décor Plants
Nature lovers never miss a chance to spend time with nature. They don't want to miss those gorgeous decorating pieces in their home. It's because they are well aware of the tremendous benefits of green friends. Plants are available in various shapes, colors sizes, and textures. They uplift your interior design, engage a dramatic effect, and boost the aesthetic value of your home. Start spreading home décor plants from the entryway. 
Hallways lead to the interior and play a key role in impressing your guests. So adorn this area with blooming colorful flowers and fresh plants to welcome your guests. It would be fascinating if your guest opens the door and is impressed by the attractive and exquisite plants.
Why Decorate Your Home with Plants?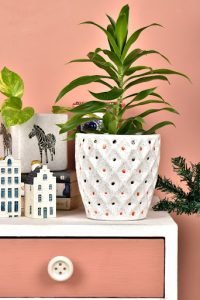 Plants offer plenty of health and psychological benefits. Let's have a glimpse of myriads of rewards offeref by plants.
Build a soothing and inspiring home 

Leave a cooling effect in summer

Improve air quality

Enhance our self-esteem

We feel to be more optimistic and serene 

Reduce anxiety, stress, and depression 

Boost your mental ability by increasing concentration.

Add more oxygen and absorb carbon dioxide

Uplift your interior design 

People in your surroundings tend to copy your style and revitalize their home design with home décor plants.
Wrap Up
So these are some home decor plants ideas that don't break your bank and bless you and your family with untold benefits. I have grown a host of plants in my home, and whenever I want to soothe my nerves and strengthen myself spiritually, I spend time with my homegrown plants. They are rejoicing and pleasant to the eye.
Do you want to kill your worries and build a calm, cool, and serene home? It's time to deck out your home with home décor plants.
'A thing of beauty is a joy forever".
READ NEXT:6 Secrets to Inject Inspiring Vibes with Paintings and Photography
RELATED TOPICS:interior design ideas