Winter makes nature look heart-warming and breath-taking. However, your little gardens look charming in the presence of tiny snowflakes. The snow caps your garden plants and gives them a heavenly beauty. A snow-capped garden may look beautiful on its own. However, do you want to enhance the beauty of your winter gardens? No worries! You can design and decorate it in many ways to enhance its view. Here are some of the best winter garden decoration ideas.
Top 3 Layouts for Winter Garden
You can choose the best layout for winter gardens according to the area you reside in. The dimensions and architecture of your home also matter a lot while designing a layout for the garden in snowy areas. Some of the best layouts are listed below for your convenience:
Build Garden in Front of Glassy Window
If you have a big glassy window, make your garden in front of it. It gives an optimistic view of the garden and gives your home interior beauty. A big window will allow you to enjoy a snowy view in the garden. 
A pergola garden protects garden furniture in winter. It also protects the garden from snow. It allows you to celebrate more events inside your garden without worrying about snow. You can enjoy family eves and friends' meetups inside a pergola garden. It is undoubtedly one of the best ways to enjoy winters without any hustle. 
Build a boundary around your small outdoor garden if you live near a wild area. Such a garden will remain protected from wild animals at night. Plants small plants around the boundary for a beautiful outlook. A garden with boundaries looks charming and well-built.
10 Ways to Design Snow Capped Gardens
You must have noticed that winter brings sadness and dullness to your garden. Though it looks stunning, A garden decoration ideas can transform it into a much happier and bright place. Different layouts and tiny decorations can add so much charm and newness to your gardens in winter. Let's explore some of the best ideas that can shape your beautiful winter gardens much more nicely. 
Add Fairy Lights to Your Winter Garden
You can avoid dullness and the nighty outlook of winter gardens. Though sunlight does not entertain your gardens in winter, artificial lighting amazingly can do it. You can hang string lights on branches of plants and make tiny decorations with them. Decorate arms of benches fairy lights. You can also put string lights in glass jars and place them in gardens. Glass jars look beautiful and protect lights from getting wet or damaged. 
Snow-capped bushes look refreshing. However, you can trim them in different layouts to enhance their beauty. The best shapes for your winter garden are round shapes, star shapes, heart shapes, and wavy shapes. Your garden will look different with differently shaped bushes. It will impart newness and stunning views to the winter garden when snow covers them. The people walking by will surely stop to embrace the beauty of these bushes. 
Add Statues to Winter Garden
You can decorate winter gardens with different statues. Place a tiny Santa Claus statue or artificial snowman on the entrance of your garden. It will make the garden look happy and welcoming. You can place artificial birds on your plants. These small statues will look excellently decorative.
You can use wooden benches in winter. They give your garden a dark academia look. You can use antique designs of benches for a better view. Moreover, iron benches get cold and wet in winters, while plastic benches also get very wet and weak when covered with snow. However, wooden benches do not get cold. They do not either absorb moisture when painted with waterproof paints. 
Use Colorful Artificial Plants
The next garden decoration ideas is adding artificial plants. Snow decreases the greenery in winter. That is why winter looks sad. However, you can add colors and happiness to your winter garden with artificial plants. Use colorful flowers and bushes. Surround them with fairy lights. They will give your gardens an unexpectedly colorful and cheering view. 
Use Cozy Blankets and Cushions
If you want to enjoy a cozy winter night while stargazing, you can add coziness to the garden. Place beautiful cushions on the bench and furry blankets. They will look cozy and warm. Your winter garden will turn into a comfortable space. 
Place Outdoor Heaters for A Warm View
You can use outdoor heaters for warmness in your winter garden. It will make the garden comfortable and a safe place to sit. Using sleek and beautiful lamps  is another garden decoration ideas to enhance the beauty of the garden. 
You can build a small garden hut to enjoy winter. The hut must be airy and stand on sleek stands instead of walls. The roof should be hut-like, styled with different sleek designs. This small hut will look so beautiful when covered with snow. You can even use this hut for different event decorations. For example, you can use it on Christmas for decoration purposes and eve. You can also decorate it for the birthday celebration. 
Hang A Bird Hut/ Bird Feeder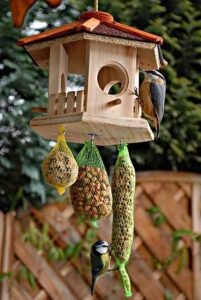 Bird feeders look stunning in winter gardens. You can use trim beautiful wooden huts. Hang them with the trees or around gardens. When the snow covers them, they look adorable. Bird feeders do not only look decorative but provide birds a shady area and food source too. So, you are also doing a community service by adding them to your garden.
Use a Chimney
A chimney looks beautiful and warm in the winter garden. You can place it in the center of the sitting area. It will give your garden a brighter view and keep it warm. You can use long and different shapes of chimneys for more charm and beauty. They are the most excellent heaters for your winter garden. 
Conclusion
Winter outdoor garden decoration ideas are very hard to implement. However, you can maintain it in the best way by designing the best layouts and enhancing its beauty with tiny decorations. Your winter garden will turn out beautiful and perfectly designed if you try out the ideas given above.
READ NEXT:5 Best Exterior Elevation Tips For Your Outdoor Look
RELATED TOPICS: home decoration ideas