Do you know? what is wall art painting? Wall art painting is something that helps you to show your interest to others and helps you to express yourself in designs. While most people don't know the meaning or definition of curating.  Curating is the process of presenting, placing, or managing different objects in different styles or orders. The idea of curation is mostly used in art galleries. Where a person manages, place, or assemble different types of art collections.  The job may vary from place to place like museum, Home or office interior design, etc. This article is a perfect shopping guide for our viewers who want to curate art for their homes.
Different ways of curating art at home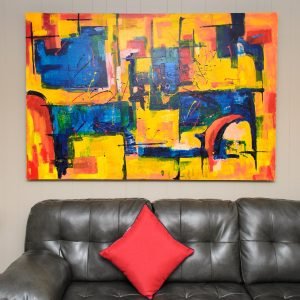 Whether you have your own art collection or you bought from somewhere, curation is mandatory in a perfect way. We are sharing important tips related to art curation. If you follow these steps, It will give you the best interior design and beautiful look of your home, room, or any other space. So let's start with.
What type of vibe do you need?
Creating a specific vibe is one of the prime purposes of wall art painting curation. If you have a set of art collections. And you want to display it in a specific space like your bedroom, living room, or any other space. The first thing is, what type of energy you want from your art.
If you face difficulty while selecting different vibes, here are some common vibes examples like inspiration, relaxation, power or energy, etc. so all you need is to select a type of energy you want from the art and where you want to place it. Like a bedroom will give you more relaxation, similarly, an office needs art to give you more energy and power. Make sure you get the required atmosphere from your art while installing it in your room.
Art selection
During the process of curation, give attention to the inside environment of the interior. Like what type of furniture do you have in the room or any other space, where you want to hang the art. What is the color of the ceiling and walls? What type of lighting is installed in the interior?  All these things matter a lot.  Make sure that furniture or any other stuff inside your room coordinates with your art.
Select a position where you want to place or hang your art
After the selection of place now it's time to choose a space where you want to install, hang or fix your art.  Depending on the size, you can place your art at different locations. However, the best answer is placing at the center. A sit will give you a catchy look to visitors, guests as well as you as well.
Create theme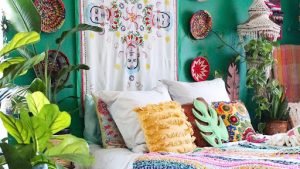 A good curator always gives attention to the theme. If you have multiple spaces and art collections. It does not mean that space will have a specific color to create vigilant themes. You can exchange color them from one space to another, to produce contrast among arts. Also, you can group arts with multiple nature together. Such as placing photographs with ink-based drawings and oil paintings.
Avoid natural as well as artificial light
To maintain the natural phenomenon of wall art painting, it is mandatory to keep the Art collection away from direct sunlight as well as artificial light. As it will flood out your art and especially if it is white or watercolor photographs.
Scaling 
While curating art at home design, give proper attention to scaling. The size of the art collection may vary in size, like it may include too small, medium, tall, and tallest arts. Oso always puts it in a way that creates a focal point for the space. If the size of the art is more, you can place it at a distance of 15 inches from the floor.
Framing
Another important point to care about curating art or at home is the framing of your wall art painting. As framing plays a vital role in your art curation. After grouping different pieces of art, the next step is how to frame them? Different types of frames are available for art. Depending upon the nature of art you can choose different types of frames like gallery frames, Floating frames, deep-set frames, tabletops frames, canvas prints, or any other type of custom frames. Besides this frame color also matter a lot. You can use black, wooden, gold, silver, or any other type of frame to group your art during curation.
READ NEXT:6 Secrets to Inject Inspiring Vibes with Paintings and Photography
RELATED TOPICS: wall paintings for decor