Every homeowner aspires to make his interior design of bedroom or other part of home appealing and inviting. They keep exploring innovative ways to rejuvenate their interior design and make their home relaxing, soothing, and presentable all the time. Among all the home sections, the bedroom is where you spend a third of your life. So designing an eye-pleasing and cozy bedroom is not without reason.
You carry out a lot of daily activities such as getting dressed, lying down, and sleeping in your bed-chamber. Perhaps, you also consider your bedroom (like many people) as one of the favorite spots in your home where you step in to obtain a wealth of peace, tranquility, and of course, a great deal of privacy. 
It is your personal sanctuary where you enjoy your own "me time." So sparing your precious time and handsome budget for a grand bedroom Design Inspiration is a must-have.
Thanks for connecting with us. Be sure to go through this whole piece of writing to peep into unique and elegant Bedroom Design Ideas.
Never Overlook Privacy in the Bedroom Design
Whether you are decorating an existing sleeping room or designing your personal sanctuary from scratch, you should not neglect privacy. A pretty bed is absolute in every bedroom, and it is the wooden article that dictates the placement of every furniture tool. Managing a small foyer in the bedroom floor plan can prove helpful to provide separation from the living room so, always keep privacy in mind when designing your house interior design of bedroom from scratch. 
Never forget to ask the architect to design a layout from which no one could have a glimpse of your bedroom from other spots of your home, like a family room or kitchen! After that, the best way to ensure privacy in your sleeping room is to choose the best location in your room for placing the bed.
Connect with the Outside World
Connecting with the outdoors may not be feasible in all climates, but you must incorporate a large window in every bedroom design. Connecting with the outside world through windows is a great source of capturing sufficient natural light and fresh air during summer. 
It also makes your Bed Room Design feel larger and appealing. Also, by adding a set of French doors to your ground-floor bedroom, you can instantly enhance visual space! Feel free to apply your creativity and artistic skills to turn your bed-chamber into more elegant, cozy, and practical!
Introduce Floating Shelves to the Interior Design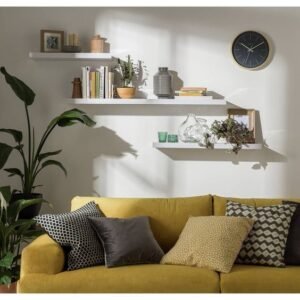 Do you know that the floating shelves have become the hallmark of modern interior design  decoration?
You can install them anywhere and showcase your creative art, favorite books, natural objects, or anything else of your choice. The versatile shelves are the best option for a small bedroom remodeling. 
Next best interior design of bedroom Pro tip! Express your love for nature by bringing potted plants into your dormitory. Spare another shelf for holding inspirational and interesting books to reflect the literary side of your personality. There's still another floating shelf to depict your self-made paintings, some decorative piece, or an elegant lamp. 
Here's a list of some floating shelves to breathe new life into your interior design.
A laptop desk
A nightstand replacement 
A bookcase
An entry table by the door
Eye Catching Throw Pillows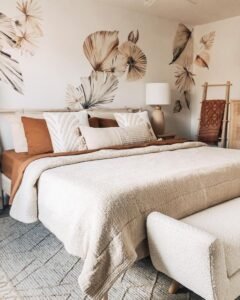 When it comes to sprinkling colors in your Bed Room ideas, throw pillows become an ideal choice. Yes,  throw pillows in elegant colors, charming shades, and attractive patterns inject colorful vibes in your sanctuary. Vibrant throw pillows develop a perfect match with any interior setting and shades of bed sheets. I have spread dozens of colorful pillows on my bed and on the the vintage rug. 
These are the first objects that pull my attention as soon as I enter my bedroom. The appearance of so many colors at a glance shatters my fatigue to a great extent. Would you like to share which color you like for the throw pillows in your bedroom?
Never Miss a Large Mirror
Mirrors are always an amazing choice for interior decoration. So you can also use it in the interior design of bedroom. They never burn a hole in your pocket, and you can pick a full-length mirror from your nearby home accessories market at an affordable price. These beautiful, illuminating pieces create the illusion of a bigger room and elevate the grandeur of your space. 
Position the mirror perpendicular to the window and brighten up your interior space. People living in small apartments take full advantage of this pro technique. They incorporate a large mirror in their bedroom and also, lean it against the wall at other home sections. 
Mirrors are available in various shapes, sizes, and designs. A body-length mirror will be an exquisite choice for your bedroom design. No need to prick holes in the wall, just lean it against the wall, open the window, and enjoy beautiful outside scenes reflected in the mirror!
A Multipurpose Bed Builds a State-of-the-Art Bedroom
In the contemporary age, beds carrying drawers underneath for extra storage have earned great popularity. They are also an excellent solution for the limited space and look more inviting and appealing. The built-in drawers and cabinets hold up well and look stunning. 
Don't hesitate to keep bed sheets, pillow covers, books, mufflers, sweaters, and overcoats there. Spare one drawer near your hands (while lying on the bed) to keep your watch, glasses, keys, and things like that. I always prefer a multipurpose bed for my sleeping chamber. What about you?
End Thought
It was all about stand-out, attention-grabbing, and comfortable interior design of bedroom to ornament and receive adorable compliments from your guests. The bedroom is what you can claim your own, and decorate it the way you want. I hope all the bedroom design ideas narrated above will prove fruitful in building the most relaxing, secure, and romantic space for you!
READ NEXT:The Top 10 Boho Bedroom Ideas for Interior Home and Design
RELATED TOPICS: interior ideas for living room