If you are looking for hotel interior designing specialist.This article will help you.Hotel interior designers try their best to make the hotel interior wonderful, keeping in mind all the demands of the current time. Every hotel needs to impress their visitors to make them revisit the hotel again and again. The hotels add and exclude various items in their interior decoration according to the growing tendencies. Guest needs are kept on priority with incredible ornamental details. Let's have a glimpse at the fastest-growing trends in hotel interior designs.
Equipped with advanced technology
Nowadays hotel interior designing is equipped with advanced technology to accommodate with current needs of its visitors. Every visitor intends to have a WiFi connection with good speed, and an accessible connection in their rooms to get entire privacy. Business tours demand it strongly to have an updated internet connection. Many business meetings are held in the hotel rooms and a good internet connection may make the visitors book the same hotel on every business tour.
Moreover, you can witness the use of technology in different functions in your hotel room more than ever. Now you can fix lighting, open and close windows, and do many other tasks. Door locks are now improved. You can open your door lock using the provided code dialed from your smart phone or the provided device. You can keep all the necessary details about your check-in and check-out by installing an app.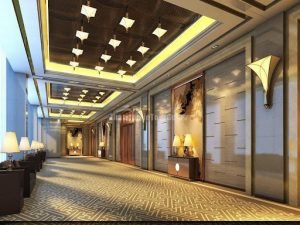 Green belts add graceful simplicity to interior décor. It makes the entire hotel interior designing and environment fresh and attractive. Indoor plants have been an essential part of a hotel interior for a long time, but now the trend to add excess from nature is growing day by day. You can have a refreshing glimpse of beautiful plants at the entrance, on the hallways, in the galleries, in hotel rooms and even in the washrooms. Not only indoor plants are taken from nature, but beautiful fish aquariums are also winning the attention of the visitors. Nature-themed walls are added to the hotel interiors. Over-sized glass windows are fixed to let the maximum sunlight get in. Air purification systems are also added to make the environment clearer and healthy.
Hotel lobbies are used as multi-functional areas. Hotel lobbies are the centre of formal and informal meetings now. Business meetings are held in these lobbies, and visitors expect to have all the necessary objects here. Lobbies in hotels, nowadays, provide plug-in sockets for charging devices, portioned sitting areas, comfy and stylish furniture. These lobbies are no more just a waiting room; you can enjoy formal gatherings here. An appreciated internet connection provides you to spend quality time in these lobbies. You can spend your spare time enjoying glimpses of various cultures by looking at visitors sitting comfortably in the hotel lobbies. The good thing about multi-functional lobbies is that it makes the hotel entrance more attractive and amazing. Amazing lighting is also added to the lobbies to make them more startling. Beautiful lobbies provide an impressive first impression. 
Glamorous features in bathrooms
You cannot skip bathroom in hotel interior designing. Bathrooms are not any simpler as before they were. Glamour is added to the décor of hotel bathrooms nowadays. The growing trend for hotel bathrooms is making them luxury in a wide area. It looks more like a spa washroom. Artistic details are added in the most attractive manners. Minimalist washrooms are getting fame. These washrooms look bigger and give an expression of majesty. Lightings are brought to the next level for making bathroom interior astonishing. Various patterns with dedicatedly designed tiles provide an impressive outcome for these washrooms. 
Office corners in hotel rooms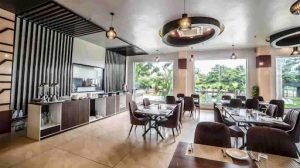 One prominent feature of modern hotel rooms is separating a corner as an office area within the same room. Official activities are an important part of a business tour, and sometimes you need to do some official tasks, even on some of your personal tours. By defining a specific work corner, it becomes easy to perform work tasks comfortably. These corners provide a logical background for your zoom meetings also. Many hotels equipped these corner offices with printers, PCs, and plug-in sockets for making your work hours more convenient.
A food area is up-to-mark now in hotels
 Hotel restaurants add immense beauty during the process of hotel interior designing. Now interior designers are heeding towards making the food area wonderful and attractive individually without considering it just a part of the hotel. Beautifully themed hotel restaurants make it a tourist attraction. The addition of artistic details makes the restaurants interior give an expression of majestic grace. Hotel restaurants provide an opportunity to promote local food culture.
READ NEXT: Holiday Trim Off: 5 Designers Tackle Wildly Creative Christmas Decor

RELATED TOPICS: best home interior design