If you're looking to transform your home by taking on a wonderful home improvement ideas, there are a number of ideas you can consider. Regardless of whether you wish to sell your property or want to change things up a bit, there will always be something you can do to revitalize your home.
While you could consider upgrading rooms at random, it is better to follow the best DIY home improvement trends of 2022. After all, being up to date with the most popular projects nowadays can help you focus your efforts in a meaningful way. 
Upgrade Your Kitchen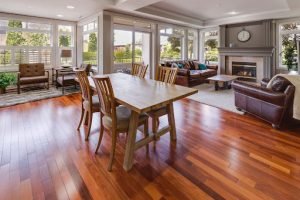 In 2022, you might want to focus your home improvement efforts on your kitchen. Whether you decide to get the latest appliances or opt for a total kitchen redo, it will all help make your home more brilliant. Think about functionality and ensure the layout of this vital room is practical. Induction stoves are also pretty popular, so if you decide to revamp the kitchen, don't forget to add induction stoves!
Promote Natural Light Sources
Why not leverage natural light sources to make your home look more vibrant? One of the simplest changes you can implement when improving the house is to opt for bigger windows. Let the sunlight bring its warmth inside and do its magic at the same time. Natural light can give the illusion that the room is bigger than it actually is. It is pretty fantastic that the addition of a window can do so much to elevate the space. This article brief you on multiple home improvement ideas.
Make our Bedroom More Modern
If you're not satisfied with the way your current bedroom design is, why not redesign it to meet your criteria? An industrial look with more dull colors could make the bedroom appear more elegant. Ideally, the space should be easy on the eyes and comforting to sleep inside. The bedroom is one of the most crucial room's in the entire home and should be decorated with style in mind.
Redo the Flooring
It is undeniable how flooring can easily elevate the look of any home. Perhaps you should get rid of the carpet and instead choose a trending hardwood flooring. Hardwood floors aren't too difficult to maintain and effortlessly add a modern feel to the room. Other than that, the best thing is that it can be a DIY project saving you on costs!
Play Around With The Paint
Another home improvement ideas project you might want to consider involves painting the home. Go for a neutral color like greige, which allows the furniture to be the room's spotlight. There is something incredibly charming about a freshly painted home. 
Add an Accent Wall
Working on an accent wall is one of the easiest ways to add another dimension of style to your home. The pop of color that an accent wall can bring makes it worth the effort. There are various types of accent walls, and you can go for the traditional darker-colored accent wall or even make a louder statement with some wild patterns. 
Build a Home Office
One home improvement ideas project that makes sense in the pandemic era is building a home office. If you juggle between work from home and other homely responsibilities, consider having a dedicated space for work. Not only will you have better concentration and higher productivity, but you will have less clutter around other areas of your home. While some people build their home offices in their bedroom, we advise against that and recommend you find an extra space somewhere else.
Add More Storage Space
Another practical home improvement ideas that you have on the table involves storage space. You can always need more space to store books, clothes, and other miscellaneous items. While you're redoing the house and rearranging furniture, dedicate more space to store things. You will thank us later for this piece of advice.
Beautify the Patio
Next home improvement ideas that worth your attention is beautifying the patio. You can play around with the furniture and create a space where you and your loved ones spend quality time. Make it warmer and welcoming by creating a cozy vibe. Choose neutral colors and practical furniture for the best results.
READ NEXT: The Stylish Renovation and Expansion of a Mid-Century Modern House
RELATED TOPICS: Home renovation