Looking home interior design ideas to achieve the right balance between decoration and comfort. This is necessary for a cozy home. But how comfortable your home truly is, also depends on the season. You wouldn't want to feel chilly when it's cold outside and similarly, you wouldn't want to sweat when it's scorching degrees.
So how can you make your home interior design ideas applicable and more comfortable? Paint and colors may be the first thing to cross your mind, but many other factors can come into play as well.
Making the home more comfortable can be in terms of lighting, furniture accessories, and visual display. All these factors contribute to bringing comfort to the senses.
1. Use soft lighting for more visual comfort

One of the first home interior design ideas is lighting. Who would want to strain their eyes? For more control and flexibility, the lighting needs to be adjustable. Consider getting smart switches and smart bulbs, as they will allow you to play around with the following features:
Color of the light (some lights allow you to configure RGB values)

The temperature of the light (warm vs cool) 
Just by increasing the color temperature during winter, you can create a warm and cozy atmosphere at home. Similarly, you can make a space look wider and more open using cooler light, and so on.
2. Add interior decoration elements using color harmony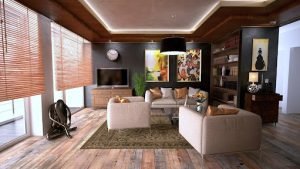 Now that we've talked about light, let's have a look at the color. You can buy many decor pieces for your home: vases, shelves, statuettes, paintings, etc. However, if all of them appear to fight for attention and don't compliment each other, your home would look visually uncomfortable. It would also appear cramped and feel suffocating.
Applying certain color schemes will save you from the stress of creating visual harmony. For paint and colors, try to stick to one of the following combinations:
Monochromatic color schemes:

Tints, tones, and shades of a single color.
Complementary color schemes:

Using two colors that sit opposite to each other on the color wheel. Blue and orange, red and green, yellow and purple are prominent examples. This color scheme is ideal for vibrancy.
Analogous colors:

Three to four colors next to each other on the color wheel. Blue, blue-green, yellow-green… Typically, all these colors belong to a certain family – it could be blue, red, yellow, etc.
Pro-tip: Light and color can bring harmony together and are considerd as the best home interior design ideas. While keeping home decor minimal, think about how changing the temperature and intensity of lighting ideas can alter colors to appear darker or lighter.
3. Use a comfortable sofa cover along with cushions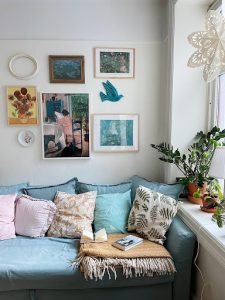 Do your sofa and armchair covers look out of place? Does your home have a traditional or classic appearance yet the furniture accessories appear sleek and modern?
If yes, you'll have to replace the covers to upgrade and harmonize the overall visual experience. You don't need to replace all the accessories, only add elements that match with the overall theme of your home.
As for the material, consider flexibility. Try getting several fur cushions and put them on the chair. Note that the material of the covers and furniture essentials can also have an effect on the outlook. For instance, a doily cushion cover may look 
4. Add memorable photos to your walls
Who says home decor needs to be limited to purchased items? Pick some photos that remind you of fond memories – trips, school or college days, family members, etc. Instead of ordering huge photo canvases, get tiny instant prints instead. They look more fun and outgoing, hence bringing a bit of spontaneity to your walls.
5. Create a soothing environment with plants
A dash of green does not harm. Adding plants not only makes the space feel more natural but can also purify the air. Peace lilies make excellent air purifiers and they thrive quite well indoors while being low maintenance. 
Here are other easy-to-maintain plants you should have:
6. Add music to lighten the atmosphere
Lastly, About the home interior design ideas, don't forget that your ears should be at comfort too! Instrumentals are perfect for any room as they are relaxing and less distracting than lyrical music. However, since music is personal, it's completely on you to create a playlist that makes you feel right at home. 
And when guests come over, you could always have another one that works for everyone such as piano instrumentals. Make sure to keep the volume low or moderate as it's hard to be calm with blasting speakers!
Conclusion
So when it comes to comfort, you need to consider all your senses. To make the most out of your home, you have to make it comfortable by adding proper visual elements, setting the atmosphere with music, using reed diffusers to spread fragrances, and even via plants and appropriate lighting.
READ NEXT:6 Secrets to Inject Inspiring Vibes with Paintings and Photography
RELATED TOPICS:interior design ideas